Welcome To MLMKALANWOODE NETWORKMARKETING CENTER ONLINE
Helping People around the World to Work At Home.
My name is Kweku Alan Woode, Ghanaian born from cape coast in the central region of Ghana fante grand parent from my father's side and Ashanti from my mother.

I grew up in Ghana with what is said to be a "good education"... hope there is some left
from it as I will soon be 27.

I'm old student of winneba secondary School. After secondary education, I had my Diploma in marketing and IT. I own an internet café with Dave and Joe Smith (jay-dee) that's when I started exploring the internet and I came across many money-making opportunities, I t was hard to believe one could make such huge amount of money just using the internet. I made my first money from online communication company with the help of Mr.Philip Steinberg my sponsor. I do run an internet business from my home and I've decided to make Network Marketing a high priorty and very much a part of my life.

Dear friend, great people were not born great. They became great by making a decision to
Pursue their dream in life and by refusing to give up. The struggle we must all face on
the road to our dreams is what makes us great. Ordinary people can become extraordinary if they consistently and persistently follow the principles of success.
One of the principles of success is that only two things make money
(1) Work makes money, and (2) money makes money.

Thank You


EASY MONEY MAKING OPPORTUNITY THAT WORKS
Mission
I put this organization together for 3 reasons. Number one I want to do my part to ensure Network Marketing industry remains strong and continues to grow at a pace where all programs can succeed. I feel I can accomplish that by sharing the strategies I use to maximize earnings, minimize risk, & minimize time invested. I believe I'll also be able to help owner's of Network Marketing industries strengthen their programs based on feedback received from fellow surfers and associate.

Number two I want to help people find an easy way to make money on the internet or from the comfort of their home. Whether you want to add an extra income to compliment your regular job or if you're looking for a full time opportunity, Network Marketing can work for you. Millions of people use the search engines every day looking for a way to make money. I can tell you from experience that it's not easy to find the right path to internet success. I'll give you the low-down on the experience I have of making money on the internet. I've accumulated a ton of knowledge since I started on this adventure back on January 13, 2000. I want my knowledge to be your knowledge. My goal is to tap into those millions of people and show them that, Network Marketing is a very legit money making industry.

Now I'm not going to withhold anything here. The number three reason why I started this organization is to increase the number of referrals I obtain. I do run an internet business from my home and I've decided to make Network Marketing a high priorty and very much a part of my life and business. I'm not selling anything, All information is free. My income from this organization will come from commissions earned from referrals.

Just a final word here. I make what I consider a full-time income from Network Marketing. Every month my income increases. Based on posts I've read in various forums, I know that many people are having similar success.

Thanks to Mr.Philip Steinberg,

My name is Philip Steinberg,

French born cocktail from Italian grand parents on my mother's side, and German from my father.
I will soon be 51.I graduated from College with a Hotel/Restaurant Manager degree. I was not much of a good student, In addition, started learning when I finally entered the working world.

God! Have I learned since... and certainly more than anyone ever could from college or university... Theory is not my cup of tea...Since then,I have worked in all kind of fields... hotel management, of course... but also created my own companies. Import-export of all sorts of wines and other product for the pleasure of the palate in the USA, precious stones in Thailand, etc... Don't ask what the relation between each venture was... the only one is the pleasure of creating, discovering and taking a challenge. More recently, a hotel with restaurants and a convention center in the center of France, then a Telecom consulting company... (I was also among the pioneers of CallBack in the 80's.)Since I discovered Network marketing some 23 years ago,
I had some sort of revelation (some find God, I found MLM). Found the answers to a lot of non-sense of traditional life. I guess you understood that I am a workaholic/pleasure-aholic
and I just could never understand why I could not earn more than Those sitting and waiting, and receive the same pay.

MLM was the answer... and to so much more.For 6 years now, MLM has been my main
source of income and passion. Those who know me know of my vision
for the future of what MLM will be. I make it my professional goal
to organize it, and set a landmark.

But what is money without a goal?

My humanitarian involvement is one, for which MLM is a big part of,
thanks to the revenues it creates to help others, and the personal
growth it offers some. One case that made me the happiest man on
earth is Allan from Ghana, who followed me in Cell Wireless.
One of those youngsters without good hope for the future... When
He started earning $1000 a week; it made me cry... from joy.

Kindest Regards,
Philip Steinberg


Thank you
Alan Woode
MLMkalanwoode
Helping People around the World to Work At Home.
(A Friendship Team for Life, in biz)
Email-kalanwood2004@yahoo.co.uk
Disclaimer:
This is a site that lists positively evaluated Online Money Making Programs. I invest in all the programs myself. You can read my comments on my experiences online in my mission statement. You are also welcome to correspond with me and ask me questions about my opinions and knowledge.If you decide to follow me in any way, that is your choice, and you are responsible for your choices.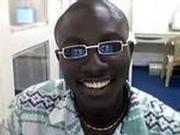 JOIN MY CURRENT COMPANIES
Online Payment Processors (OPPs)
you need OPPs to make money with online programs, but these OPPs are also moneymaking programs in and of themselves. E-gold is the leading online payment processor company in the HYIP, GPTS & some network-marketing field. If you don't yet have an e-Gold account, you will want to get one right away. Please copy and paste the e-gold link below. http://www.e-gold.com/newacct.asp?cid=1957350
2. SAVE BIG ON FUEL COSTS Call-+233207689522 http://www.kalanfuel.myffi.biz
3.Virtual Crdit Card? Pay online without a credit card... and more Please copy and paste the link in a new browser.http://www.graphcard.com?rid=18553
As the world population gets larger and technology keeps advancing, more people are able to do more things that they couldn't do before. The Internet is an excellent example of this. You can buy and sell just about anything over the Internet. Anyone with a computer can sell stuff, and anyone else with a computer can buy that stuff. The Internet knows no geographic boundaries. It's probably not practical to buy oil and gasoline over the Internet, but you can buy a car that way. Check out sites like eBay and Yahoo! Auctions. People are selling everything: stuff they don't want, stuff they would normally throw away. You can almost anything you need (and plenty of stuff you don't) on these online auctions sites. Many people buy books, CDs, movies, furniture, cars, and even houses online. The sites that are selling these things are not necessarily auction sites. They are online shops. If you lived in the middle of the Ukraine and you really wanted to buy and sell African alligator eggs, you could do it using a computer. You'd just need to guarantee yourself a supply and a demand and make all the necessary arrangements using your computer and the Internet. Computers are constantly changing the way people do business in very exciting ways.
Stay tuned
BUYING AND SELLING ONLINE NETWORK INT.